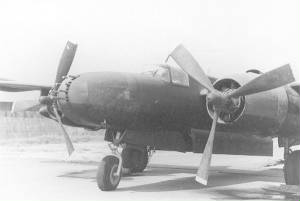 The above shot was sent to me by Scott Lindley (SO"SC" Fixer and historian)
EB-26C-DT, B-26C-DT modified for missile guidance tests, USAAF serial: 44-35300
Regarding the "0" on the fin of this aircraft, for a period in the 50's & 60's there was a problem with airframes starting to last longer than normal and the possibility of 2 aircraft serialled 48-4500 and 58-3500 both shown as 83500
It was decided that the one that was older would have a ZERO in front of it to denote 'Over 10 years old' so one would have 84500 the other 0-84500

Somewhere along the line somone decided that the ZERO was an 'O' for Obsolescent and this error has been repeated in MANY sources.

Above, I can confirm that this A-26 was sold to the French in the mid-1950s for use in Algeria.
I am curious about her assignment in the USAF in the 1940s.
So far I've found nothing about her prior to her sale. Interestingly, this photo was shot at the airport where the SONC now resides.