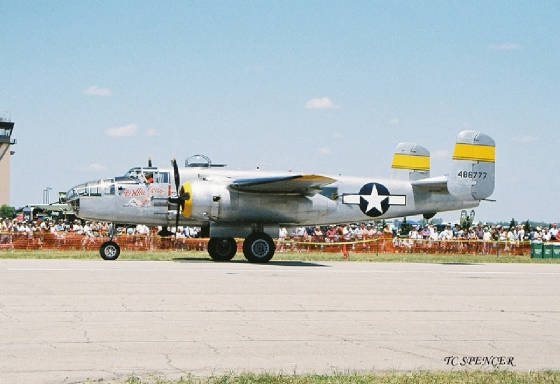 Serial #: 44-86777
Construction #:
108-47531
Civilian Registration:
N9167Z
N345BG
Model(s):
B-25J
TB-25J
TB-25N
Name: Martha Jean
Status: Airworthy
Last Info: 2008

History:
Delivered to USAAF as 44-86777, 19??.
- Stored at Davis Monthan AFB, AZ, Dec. 1958-1959.
Fike Plumbing Inc., Phoenix, AZ, 1963-1966
- Registered as N9167Z.
James E. Landon, Phoenix, AZ, 1969.
Allan R. Crosby & Richard T. Crosby/Crosby Enterprises Inc, Wauwatosa, WI, 1970-1987
- Flew as "486777/BD-777/The Devil Made Me Do It".
Tom Reilly Vintage Aircraft Inc., Kissimee, FL, 1987-1988.
- Restored and fitted with glasshouse nose.
Ed Stringfellow/Mid South Lumber Co., Cropwell, AL, June 1988-1992.
- Flew as Martha Jean.
Executive Aviation, Cincinatti, OH, Nov. 1992-1997.
- Registered as N345BG, Mar. 1993.
- Flew as Martha Jean.
Bud Firth/Lost in the Forties Aviation, Baton Rouge, LA, Apr. 22, 1997-1999.
David Wheaton/Blue Yonder Inc., Tulsa, OK, 1999-2008
- Restored to airworthy, Chino, CA.
- Flown as 0-486777/MSLC/Martha Jean.