Martin,

My father (also named John Skillman) was a Lt in the USAF and he served in Korea and Japan with the 13th Bomb Wing (L) from 1953-55. He was an armaments officer while at K-9 Pusan East and Miho AFB Japan.

He was a ROTC student from University of Colorado who graduated in may 1953 and was immediately sent to Korea and subsequently Japan with the 13th Bomb Wing (L) until returning to the US in May 1955. The slides tell a story of his flight to Korea, civilian and base pictures in both countries and then his return home on a Navy transport.

In going through his old slides a few years back, I found some shots of Korea and Japan including a few shots of the B-26 and some with crew in the photos. As he is now deceased I have no idea who is who but you may find them useful for your website.

In fact, one of his best shots, features the same plane you have on your site.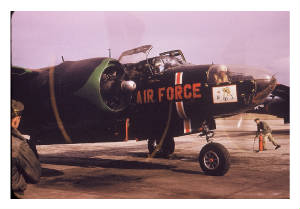 All his slides are color and I have them digitized and would be happy to forward them in batches if you like. I also have a shot or two of Lady Liberty's nose art taken at Oshkosh, WI from recent years.

Unfortunately I know very little about his service in Korea and Japan.

I've done some recent research on the 13th BW and pieced together a timeline with the help of several websites (especially

http://www.bombgroup17.com/home

).

Most of the pictures are not aircraft oriented but there are several of the base and many of the civilians and the scenery.

I figured the aircraft and base pictures would interest you the most so I will attach those in this e-mail.

If you area able to identify anyone in the photos please advise.

Here' re the copies your certain to be most interested in.

I believe these were shot at K-9 Pusan East 1953-54, the rest I believe were taken at Hurlburt Field near Pensacola Florida after May 1953 when the unit was shipped back from Japan.

John Skillman.
The above shots were taken at Pusan and the remainder below at hurlburt field
Thank you John, for a great contribution.
Some of John's Oshkosh photos
Regarding the shots below, John writes:
Martin,
I visited Oshkosh again this year on the 27th of July and shot a few pictures of A/B-26 Lady Liberty and noticed a few minor changes in the paint scheme. Attached you will find shots of the pilots side of the nose with the co-pilots name removed, "The Spirit of Oklahoma" added on both sides along with a rescue arrow added before the wings.
A more noticeable change is the grim reaper skeleton added to the tail. I also took a picture of the bomb bay and cockpit.