Opened in July 1940 Westhampnett was used as a fighter station by the RAF before handed over to the USAAF in July 1942. It was on the 26th July that the 31st Fighter group became the first US fighter unit to start ops in the European arena. Up until March 1945 various US and RAF fighter units used the airfield and it was closed shortly until July 1945 when a Royal Navy unit moved in. This left in November 1945 and was placed into care until closure on the 13th May 1946. The airfield was transformed into the Goodwood racing track shortly after the war.
G-AZSC was built for the USAAF in 1943 and delivered to the RAF in 1944 as a training platform for pilots who were destined to move onto single engined fighter aircraft. After being sold to Royal Netherlands AF, she moved into the civil market place and undertook various roles including that of a sign writer.
One of her more notable owners was that of Gary Numan, who in partnership with Norman Lees, who later tragically died in a Spitfire training accident at Goodwood, flew as "The radial pair" display team.
Sporting a dashing black colour scheme undertaken by Numan prior to her sale she now resides at Goodwood aerodrome and along with being used for warbird experience flights, she is also one of the few Harvards in the UK, where pilots can be trained, under tuition from Goodwood Aero Club instructors, to fly vintage aircraft on there way to flying the more faster Mustangs and Spitfires.
She is meticulously maintained by the Goodwood maintenance team and brings a welcome addition the Aeroclub as the first of what looks to be a future trend at Goodwood to bring the thrill of clasic flying to the man in the street with a hint of maybe the purchase of other warbirds, that will grace the Sussex skies.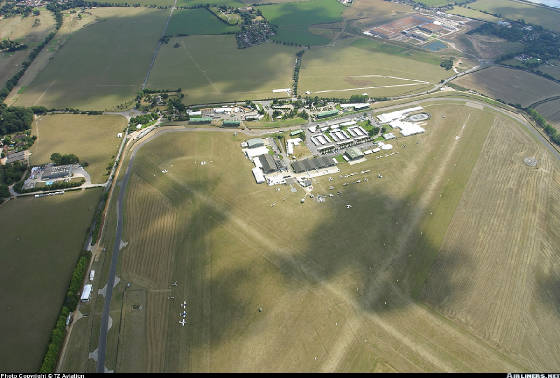 This page, the history of the Harvard
Page 3. The Pilot, (Oberleutnant) Hans Dieter Sinanan.
Page 7. Lee Proudfoots first of 2009
Serial #: 43-13064
Construction #:
14A-1363
Civil Registration:
PH-SKK
G-AZSC
Model(s):
AT-16
Mk. IIB
Name: The beast
Status: Airworthy
Last info: 2008


History:
Built for USAAF as 43-13064, 1943.
Delivered to RAF as FT323, Jan. 1944-1946.
Delivered to Royal Netherlands AF as B-19, Nov. 28, 1946.
C. Honcoop, Veen, Netherlands, circa 1969.
J. Daams/Skylight NV, Loosdrecht, Feb. 10, 1970.
- Registered as PH-SKK.
Sold to owner in USA (never delivered), struck-off civil registry, Nov. 19, 1971.
R. N. Rijken, Jan, 5, 1972.
- Reregistered as PH-SKK.
Sold to owner in Switzerland (never delivered), struck-off civil registry, Jan. 14, 1972.
Doug W. Arnold/Fairoaks Aviation Services, UK, Apr. 7, 1972-1977.
- Registered as G-AZSC.
- Delivered to Fairoaks from Holland, Jan. 12, 1972.
- Flew initially as RAF/FT830 (later as RAF/FT323.
Michael W. Stowe, Blackbushe, UK, Nov. 2, 1977-1981.
Doug W. Arnold/Warbirds of GB, Blackbushe, UK, Jan. 5, 1981-1984.
Gary Numan/Machine Music Ltd, Fairoaks (later White Waltham), North Weald, Duxford, UK, Feb. 28, 1984-2002.
- Flew in Japanese Zero scheme.

Sold through Meridian Aircraft sales to Goodwood Aero club in 2005, now used for warbird experience flights, training and as a display aeroplane for Goodwood Aero club, piloted by Dieter Sinanan.
In detail
In 1934 the US government issued a contract for a primary trainer to meet the ever expanding US Army Air Corps training requirement. In answer, North American Aviation, based in Southern California answered with what would ultimately become the most numerous training aircraft ever produced.
The first prototype, the North American NA-16, which first flew on 1 April 1935, evolved into the AT-6 Texan. This aircraft was produced in several variants, with several power plants ranging from 400 to 600hp. Production initially started with the BT-9 type for the US Army Air Corps in 1936 with a contract for 95 and this series was again ordered in 1937 with a contract for 248. In 1937 the addition of retractable undercarriage, a Pratt and Whitney R-1340 power plant and some other refinements to the airframe produced what is now seen as the classic "Harvard" shape. Further developments with construction and different materials led to the AT-6A, which was first produced in 1939.
With America's entry into WW2 in December 1941, production of the intermediate trainer was contracted out under licence to several companies, one of those being Noordyne Aircraft Ltd. Based in the old Curtiss-Reid Aircraft factory in Montreal, Canada, Noordyne began construction of AT-16 aircraft (a licensed version of the AT-6A). Eventually the factory produced 3,985 examples, mainly for the USAAF and RCAF, by the time of the sale of the company in 1946. By end of production, in total over 17,000 "Harvard" aircraft of all variants had been produced
G-AZSC was built by the Noordyne factory, rolling off the production line on the 2nd November 1943 and was allocated the USAAF serial 43-13064. After the factory test flight she was selected for shipment to the RAF and was ferried to Newark, New Jersey. Shipped aboard the SS Morgenue, she departed dock on the 24th December 1943, arriving in Liverpool docks on the 6th January 1944. SC was allocated the RAF serial FT323 and was shipped by road to 46 Maintenance Unit at RAF Speke (now Liverpool John Lennon Airport) arriving there on the 13th February 1944.
During 1943, 46 MU had been tasked with the mass assembly of USAAF aircraft arriving in the UK in preparation for D-DAY, SC of course was one of these and following assembly stayed at Speke as a communications aircraft. Rootes Securities, also based at RAF Speke, had in 1941 been awarded a contract for building Halifax aircraft. In November 1944 with the war progressing and demand for increased aircraft production, SC transferred to Rootes to be their communications aircraft. Evidently SC was not a popular aircraft for this task as by the 6th February 1945, she had been transferred back to 46 MU and was put in storage.
On the 29th October 1946 SC was removed from storage and put back in the air in preparation for a new life in continental Europe. In November 1946 SC was transferred to the Royal Netherlands Air Force, being accepted by them on 26th December 1946 and given the serial B-19. The Royal Netherlands Air Force had been almost completely wiped out during the German invasion in 1940. A few crews had escaped to England and served with the RAF throughout the war, however following cessation of hostilities, the RAF showed its appreciation of the Dutch by donating aircraft to rebuild its armed forces. It seems however that, this somewhat dated technology by then wasn't so well received and SC was subsequently shipped to Sweden in 1947.
Used very little, it next appears on the register in 1969 in private hands based at Veen, in the Netherlands. Here, with its new registration of PH-SKK she was used by a Skywriting company, and was fitted with an oil smoke system. It appears though, that love for her was not high, as there were two attempts to sell her, firstly to the USA in November 1971, and then again to Switzerland in January 1972, both times the sale fell through. However in April 1972 she was bought by Doug Arnold at Fairoaks to be part of his expanding collection of aircraft. His Warbirds of Great Britain Collection is responsible for saving many of the historic aircraft we enjoy seeing today, this Harvard being one of them.
When Doug bought her she was in a blue and gold paint scheme, and he chose to paint her in what he thought to be her original RAF scheme. Confusion led to her being painted as RAF Harvard FT830, before her proper identity of FT323 was discovered. Sold to Michael Stowe, she moved to Blackbushe airport from November 1977, a move only temporary, as Doug Arnold bought her back again in January 1981. Here enters 80s pop star, Gary Numan.
Gary had always wanted to be a pilot, and although having attended Brooklands Technical college, lacked the academic qualifications for the airlines. He had however enjoyed some time in the Air Training Corps, and with a Private Pilots License and a love for old aeroplanes. He bought SC from Doug in February 1984. He painted her to look like a Japanese "Zero" fighter and for many years he flew her on the display circuit, appearing at shows across the UK and Europe. Gary formed the Radial Pair, a Harvard aerobatic display team with his friend Norman Lees, this eventually grew to become a group display with up to 5 Harvards taking part.
During the 80s and 90s as Gary moved around so did SC, being based successively at Fairoaks, White Waltham, and North Weald. With increasing hours being logged, her paint was fading and it was decided by Gary to paint her in her current scheme in 1996, before a move to Duxford in Cambridgeshire. Here Gary kept her until October 2005 when she was sold to Goodwood Road Racing Company, moving to her current home at Goodwood shortly after.
SC now earns her keep introducing people to the technicalities of heavier tail wheel aircraft. Ideal both for training and pleasure flying, SC was an aircraft that Plane Heritage has long wanted to offer flights in. After some negotiating Plane Heritage and Goodwood Road Racing Company came to an agreement in December of 2008, and we are delighted to have this aircraft available to us from the start of 2009.
North American AT-6 Harvard Specifications
Aircraft Type:

North American AT-6 Harvard

Mark:

AT-6 Mk I,II, III

Primary Role:

Combat trainer

First Flight:

1 April 1935 as the NA16 prototype

Date operating with FAA squadrons:

1943-1955 (with FAA air crew 1940 onwards under the BCATP)

Manufacturer:

North American Aviation Inc., Los Angeles Municipal Airport, Inglewood, California, U.S.A.
Canadian Car & Foundry
Noorduyn Aviation Limited, Montreal, Canada

Engine:

One 600hp Pratt &Whitney R-1340-AN-1 engine

Wing Span: Length: Height: Wing Area:

Span : 12.8m (42'0ft)
Length : 8.99m (29'6ft)
Height : 3.56m (11'8ft)

Empty Weight: Max.Weight:

empty : 1,938kg (4,271lb)
max : 2,546kg (6,617lb)

Speed:

Ceiling:

Range:

max speed : 341km/h (212mph)
max climb : 1,643ft/min (8.3m/sec)
ceiling : 24,750ft (7338m)
range : 1400km (870miles)

Armament:

None

Crew:

2

Squadrons:

702,709,715,718,721,726,727,728,729,732,741,748,750,757,758,759,761,766,767,768,778,780,781,
782,784,789,794,795, 797,798,799

Battle honours:

None with FAA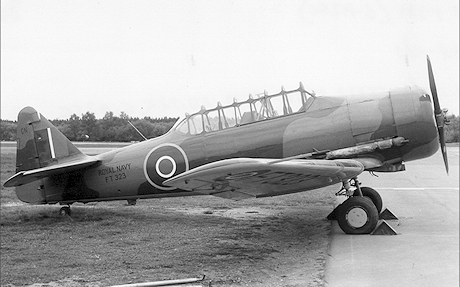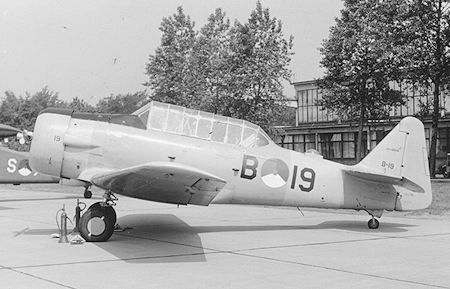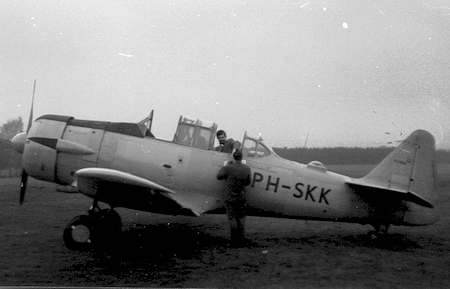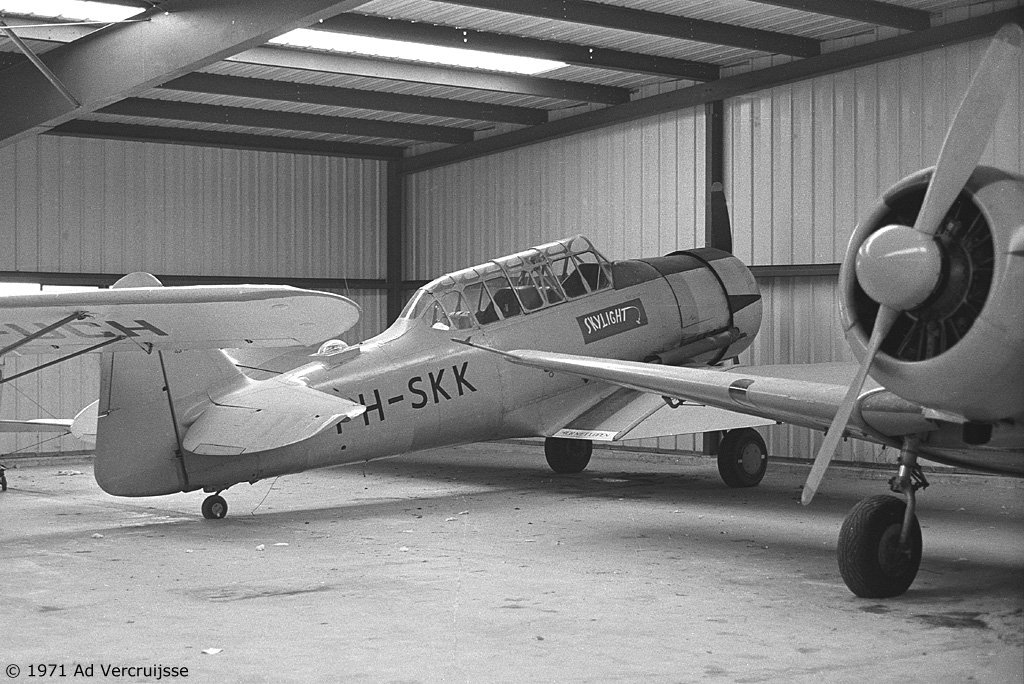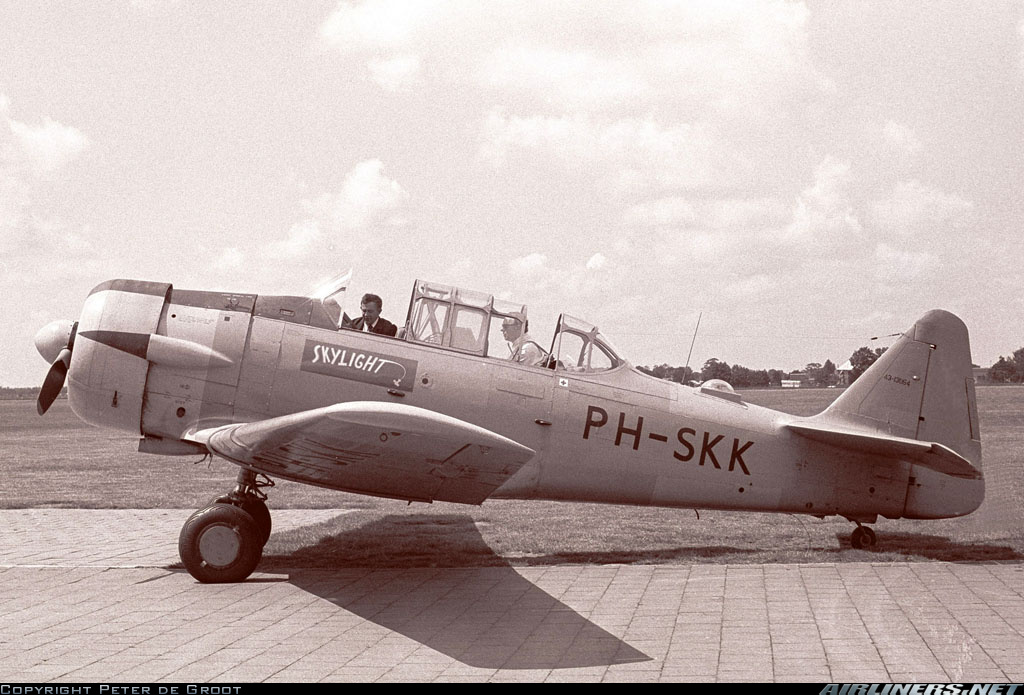 .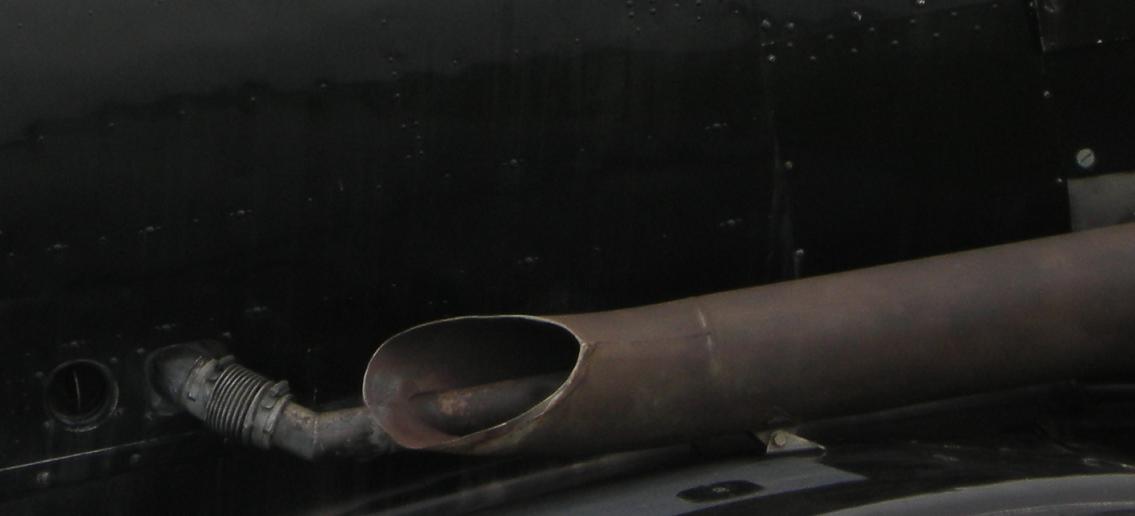 After her tour of duty with the USAAF and RAF she was sold into the civilian market and back in the 70's, re-registered as PH-SKK was used for Skywriting. On nice days she would fly over Zandvoort Beach and write the "Roxy" cigarette name. Oil was fed into the exhaust system via a small holding tank to create the smoke.
The same set up still exists today in the Goodwood Harvard.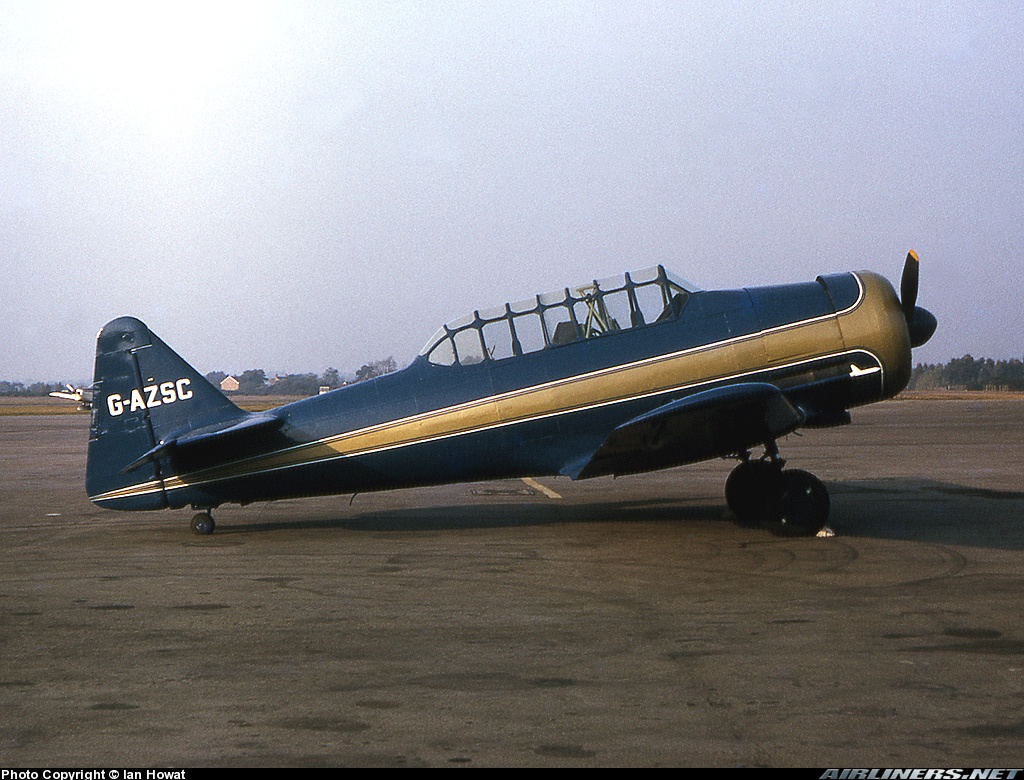 The above shot shows "SC" when she was owned by Doug W. Arnold of Fairoaks Aviation Services, here she is at Blackbush in 74 in a striking colour scheme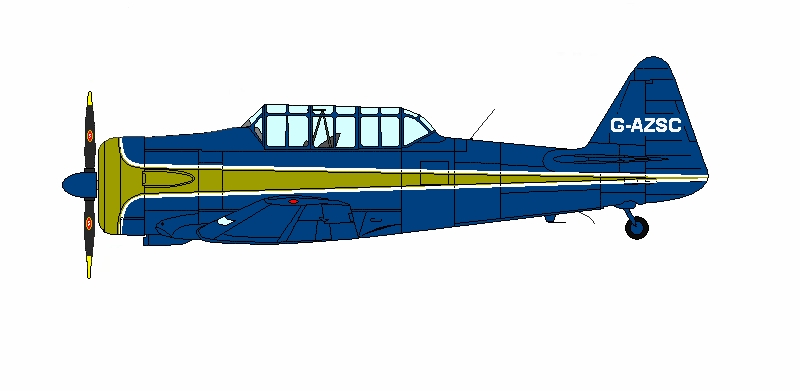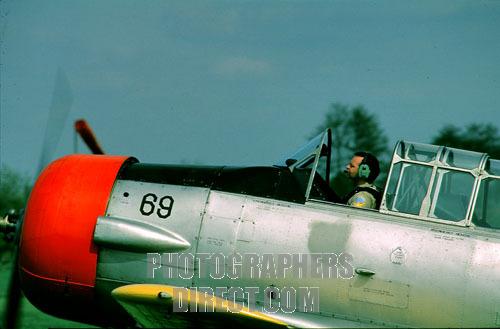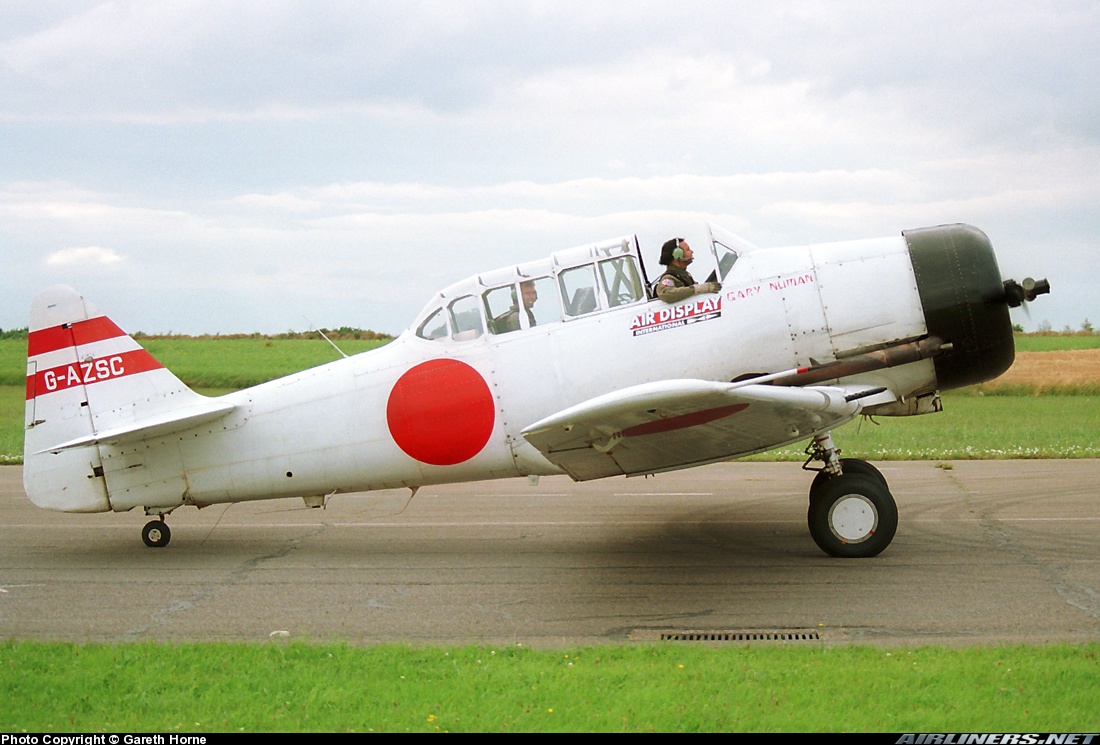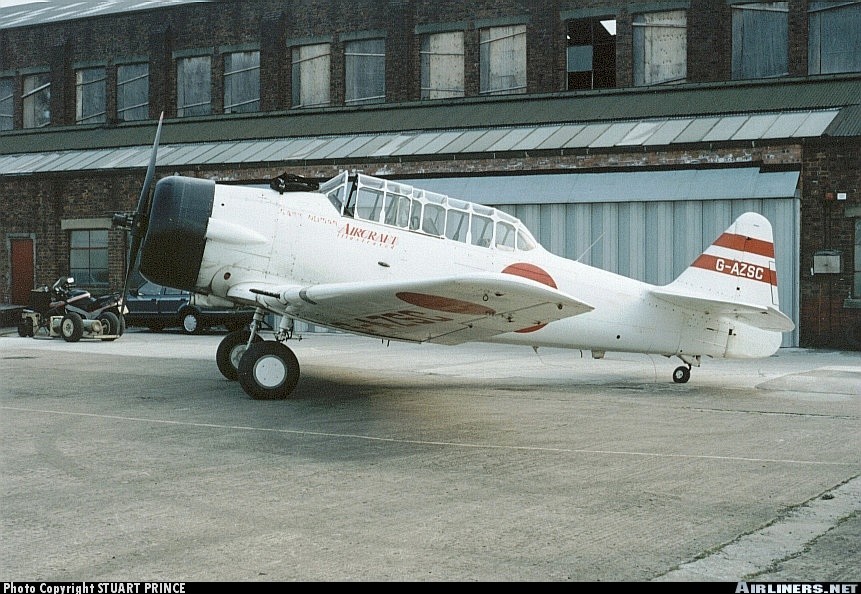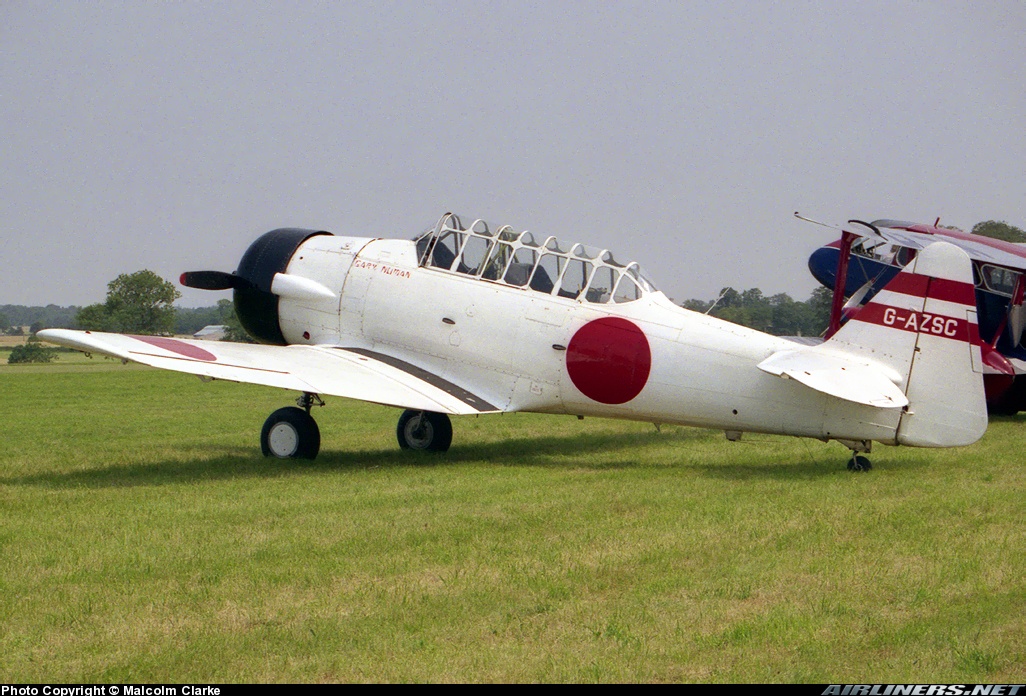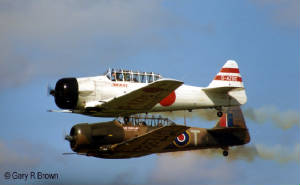 The above shot shows Norman Lees with Gary Numan, when they displayed as the "Harvard Formation Team"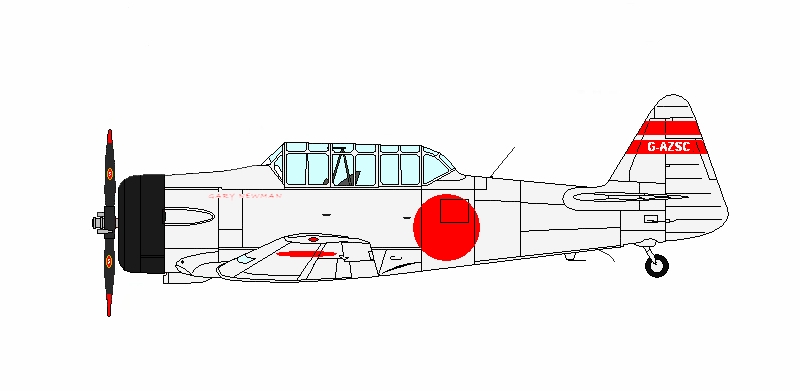 The above seven shots show the Goodwood Harvard when she belonged to Gary Numan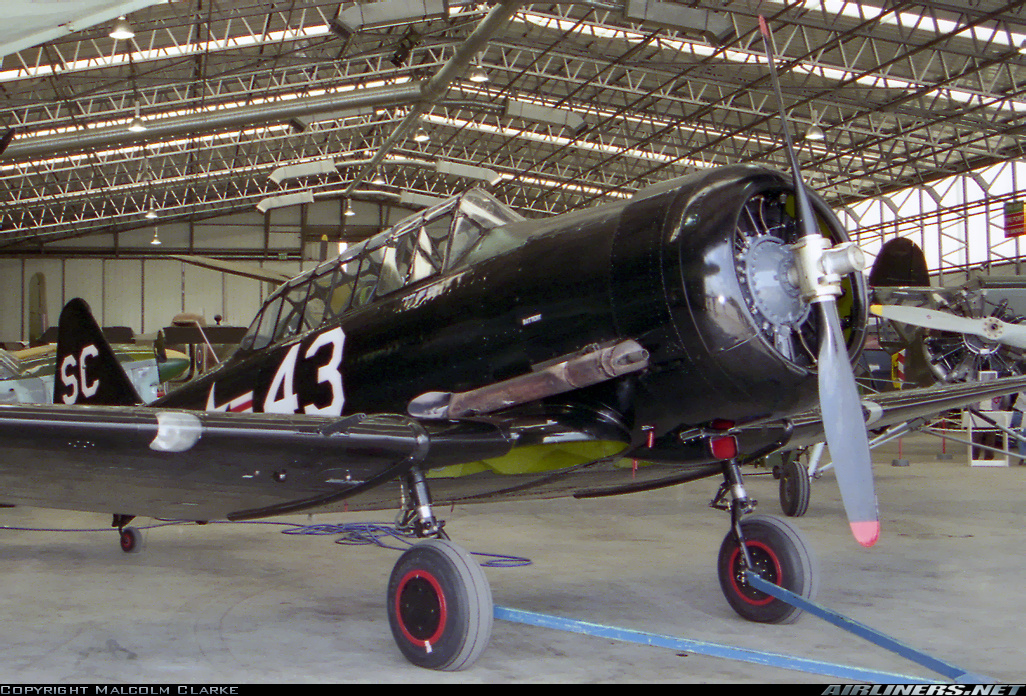 Undergoing maintenance at Duxford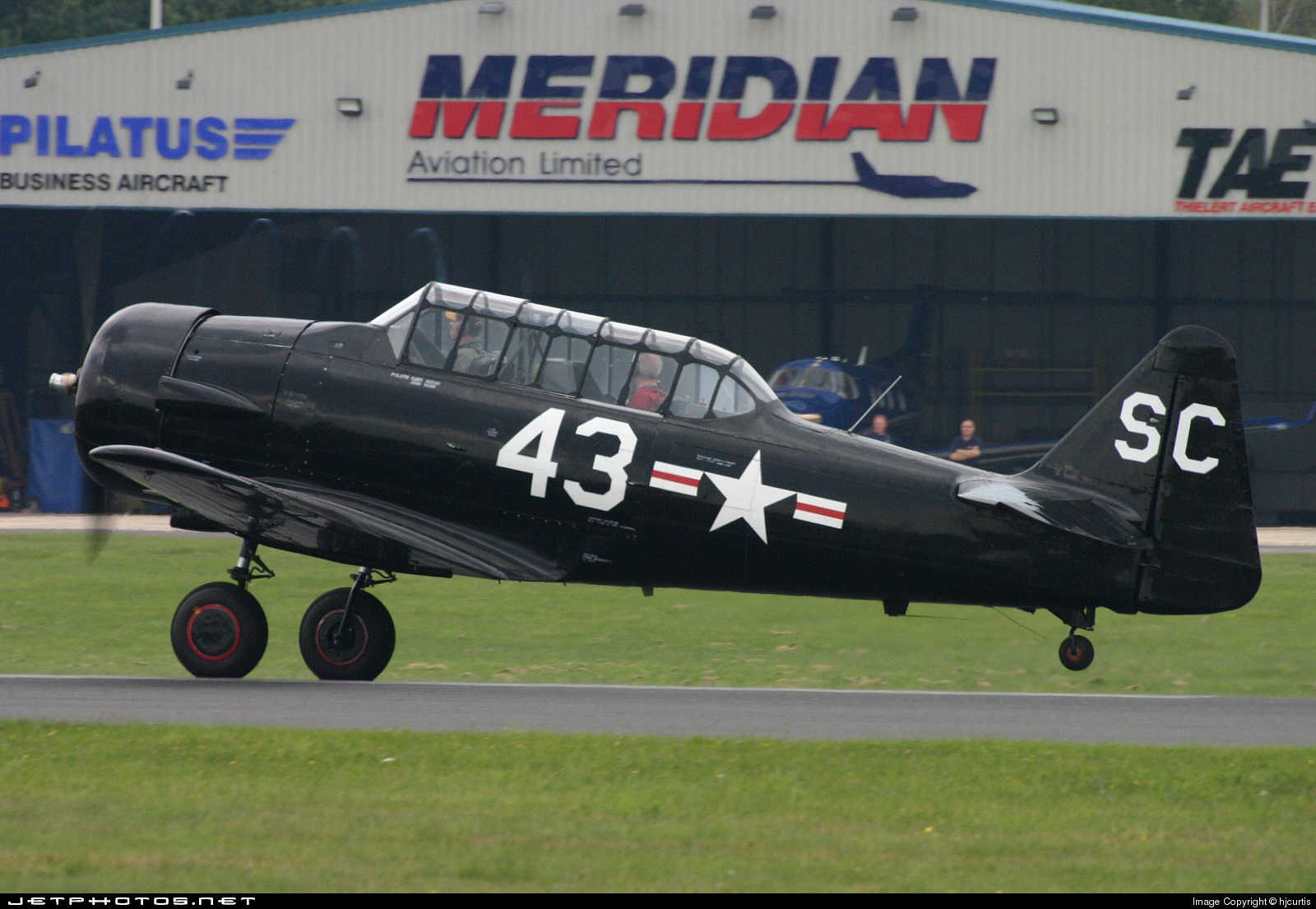 .............As she leaves her old home at Meridian, Bournemouth for delivery to Goodwood
Above is me with Sierra Charlie at Legends in 2007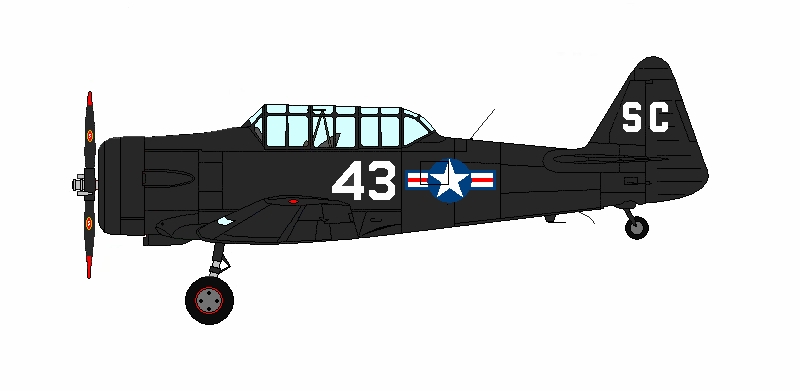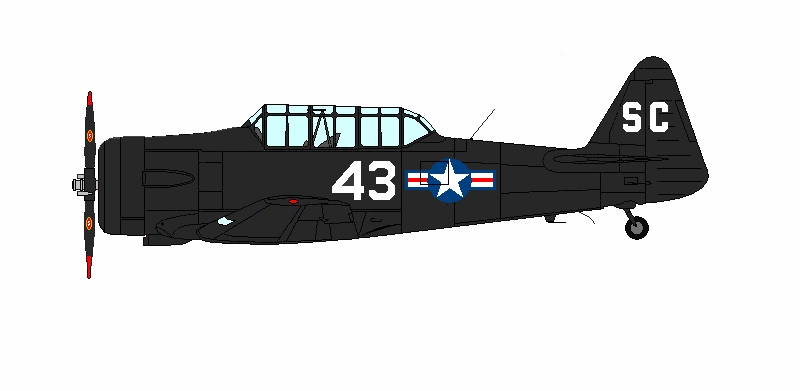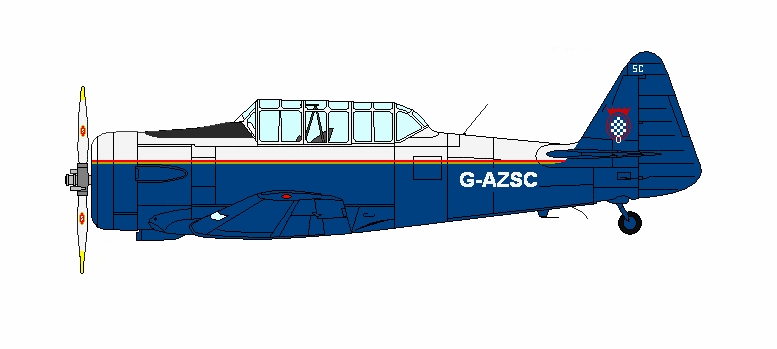 ............Well, maybe someday